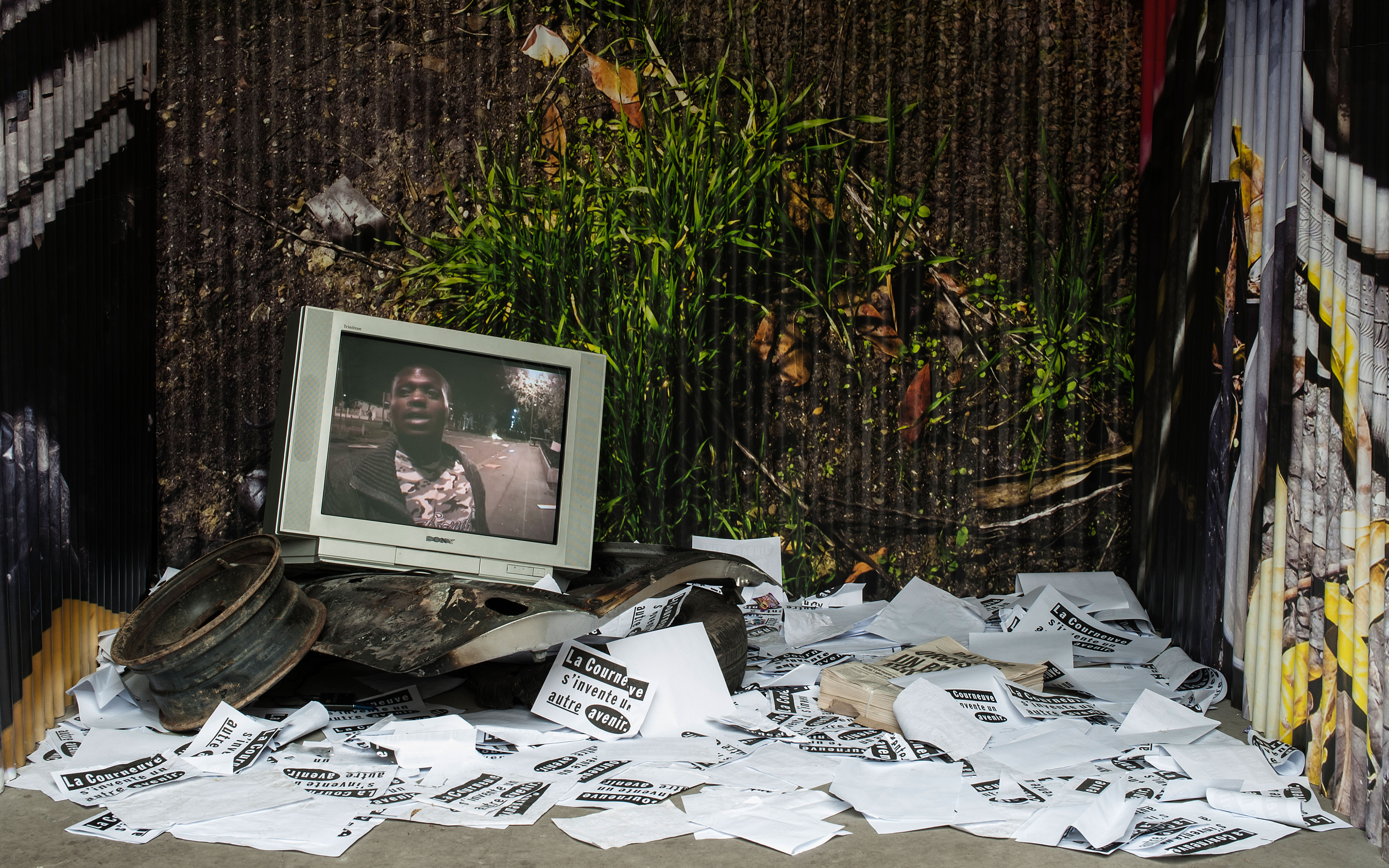 ---
Concept

In June 2015, at the Photoespaña viewings, the AQE project was selected by Marion Hislen, director of the Circulation(s) Festival and current Delegate for Photography of the French Ministry of Culture, to participate in its sixth edition.

Invited as artists in residence, we received carte blanche to carry out a new body of work to be developed in Paris, expanding the one already done on Orcasur, and curated on this occasion by Sandra Maunac. The residency was developed during three months, from October 6 to December 21, 2015, at 104-CENTQUATRE-PARIS, the space that hosts the festival.

During these months we worked on the northern periphery of Paris, specifically in the Courneuve area (also known for its past as the "cité des 4,000"), for its similarity with Orcasur. The idea was to establish direct socio-spatial links with what was analyzed in Madrid. This new phase of the project was therefore nourished by the comparison between the two districts, with the aim of demonstrating that the ideas developed to date on the influence of urbanism and social determinism can be extrapolated to other territories.

The final result was presented in Paris within the framework of the Circulation(s) festival, and was exhibited for 6 months in a very specific and exclusive space of the 104-CENTQUATRE-PARIS: the Water Tower room, located at the entrance of this multidisciplinary center, a cultural reference of the Parisian capital.


Technical Data Original title: La Même Indifférence
Project: Aquellos Que Esperan. Vol. 02 "La Même Indifférence"
Where: Centre Le CentQuatre-Paris. France
Dates: 26th March to 07th of Aug 2016
Curators: Sandra Maunac, Aquellos Que Esperan
Images: Aquellos Que Esperan
Design: Koln St.
Production Co.: The Kids Are Right
Organizers: Le 104, Circulation(s)
With the collaboration of the Spanish Ministry of Education, Culture and Sport
Original Language: French


---
Approach

The same set of measures applied on a large scale will produce identical or very similar results in different societies and at different times.

"How is it possible that places with multiform histories have so many similarities and at the same time arouse the same indifference? How is this indifference actually articulated?

These are some of the questions Borja Larrondo and Diego Sanchez ask themselves without trying to answer them. Rather, this duo explores the possibilities of drawing the contours of the territories they document; they investigate both the physical and psychic traces generated by architectural and state structures; they collect the stories of the inhabitants of these stigmatized neighborhoods, filled with images that stain them.

Through an artistic residency at Space 104 in Paris, they have enriched their multiformat project on the Orcasur neighborhood in Madrid with a new work realized at Courneuve Paris. This new phase tries to outline - in a fractional way - bridges of comparison, but above all it intends to make us feel and question ourselves about the future of our societies."



Sandra Maunac, Curator



---
Awards & Grants

Fotopres
Magnum Photos' Mentorship: Peter Marlow, Peter van Agtmael & Mark Power
Descubrimientos PhotoEspaña
PhotoEspaña - Book of the year. Shortlist
Les Rencontres d´Arles - Author Book Award. Shortlist
Artists in residence at the Circulation(s)
Carte blanche. Exhibition Le CentQuatre-Paris
Acción Cultural Española. Ministerio Español de Educación, Cultura y Deporte

---
Related Information